SOPROLIFE is a new imaging fluorescence device aiding in the diagnosis and treatment of caries.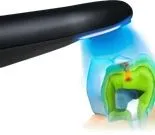 The auto fluorescence technology in SOPROLIFE allows the detection of occlusal or interproximal decay, even in its earliest stages, which can often be missed by the eyes or by x-rays.
 
SOPROLIFE allows the differentiation of healthy from infected tissue in order to excavate only the tissue which is diseased.
 
SOPROLIFE functions "live" in three modes and is free from ultraviolet or ionizing rays.